Beginning in the summer of 2019 event participants can sign their event waivers/release forms electronically during the registration process. So no more* signing paper forms at number pickup!
A few things to remember:
Each adult participant needs to sign their own waiver. You can register other people (relatives, teammates) and they will be emailed a waiver to agree to. For participants under the age of 18, a parent / legal guardian must agree to the waiver. Minors registering themselves will have a waiver emailed to the designated guardian. Guardians registering dependents can agree to their minors waiver during checkout.  
*If someone else registers for you and you do not agree to the online waiver your entry will get flagged during the promoter download process and you will have to fill out the paper waiver on race day. So for the fastest event day checkin make sure the contact information in your BikeReg profile is up to date!
For Competitive Events sanctioned by USA Cycling, on race day you *must* still show a valid USA Cycling license at check-in.
If you are registering on event day you will still need to fill out the paper form- so save time and money by pre registering!
License Verification For Races
The license verification tool integrates directly with the USA Cycling database for real-time license verification. This tool is optional and will not be in effect for events that don't require USA Cycling licenses.
If a participant registers for an event with an expired license, the event director will be able to download the registration data that includes a list of expired and active licenses.
USA Cycling licenses now verify the participant's entire birthday. If the birthday and license number do not match during registration, the participant will receive a "Registration Incomplete" warning:
The participant can then select the clickable "edit" link to be redirected to correct their license number and/or birthdate.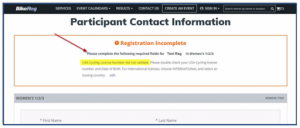 The license verification tool will also verify that the participant is registering for the correct category, corresponding to their USA Cycling license.
If participants register for a different category than what is listed under their active license, they will also receive a warning from the system. For more information on category restrictions please reference "Restrictions – Category Setup" in the BikeReg knowledgebase. 
An important note for those registering for Cyclocross events- Cyclocross uses a unique 'racing age' system because the season spans the end of the year and some championship events are held after December 31st. 
Your racing age for cyclocross is the oldest you will be at the end of the following year. This includes junior riders, so it is common for athletes to be considered a "junior" on the road and mountain bike, but a "senior" in cyclocross. For a short video about cyclocross racing age you can visit NEBRA's YouTube channel here: https://www.youtube.com/watch?v=H7G2P8R4zMg