Minuteman CX — p/b Minuteman Road Club, Wachusett Brewing, and Landry's Bicycles
When:
2018-10-07T00:00:00-04:00
2018-10-08T00:00:00-04:00
Where:
318 7 Bridge Rd
Lancaster, MA 01523
USA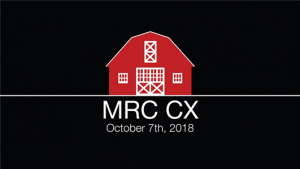 Follow us on Twitter and Instagram and use race hashtag #mrccx
Course Description: Grass, dirt, some pavement and of course some wood chip-lined turns through the barns! This course will require a good mix of driving skills and engine, bring both!
Cash Payouts, Men & Women Elites 8 deep:
1st – $200
2nd – $150
3rd – $120
4th – $100
5th – $80
6th – $60
7th – $50
8th – $40
Landry's Bicycles gift card amounts, 3 deep:
1st – $50
2nd – $35
3rd – $25
YES, "day of" registrations are available on a first-come-first-served basis. We can register day-of's up to the field limit for each time slot. Day-of registration for a category closes 30 minutes before the start of that category. There is a $10 additional fee for day-of registrations – no additional fee for juniors or cub juniors. Day-of entries will be staged at the back of their respective fields. One day licenses are $10 and are available for Cat 5 men and Cat 5 women.
Promoter reserves the right to combine races.
Additional race is only $10
Day-of registration closes 30min before race start
Junior racing age 18 *and* younger will follow roll out protocol after their race (Cubs and kids races are excluded)
Any "day-of" registrations will be assigned a position at the back of the field
Combined races will be staged together.  Call up's will be done by last name
Mixed races, Masters 40+ and 50+, will have separate podiums
If you are a 2017 New England Regional Champion and we offer a category you are champion of, wear your champion's kit to reg as well as the race and we'll give you a cash refund of your registration fee on the day of the race.
MRC CX is part of the Zanconato Custom Cycles Singlespeed CX Series.
MRC CX is part of the 2018 NE Cyclocross BAR (Best All-Around Rider) Series, for more info/standings, visit NE Cyclocross BAR
Beer Tent: The folks from Wachusett Brewing Company are back and will be selling their outstanding wares at reasonable prices to thirsty racers and friends/family.
Team tents: There are 10 team tent spots available by pre-reg ($20 per spot) and if any spots are left on race day, they will be allotted on a first-come-first-served basis at $20 per spot.
Preriding: NO ONE should be on the course pre-riding during a race. To pre-ride, ONLY enter the course BEYOND the start/finish line when the official confirms that the last rider from the previous field has begun their last lap. DO NOT PASS anyone still racing. Failure to do so can result in disqualification.
Juniors:  ALL JUNIORS RACE FREE! We are proud to offer this benefit to our young riders and their families. Beginner (Cat 4/5) Juniors will race with their corresponding Beginner field (Cat 4/5 Junior men will race with the Cat 5 men, and Cat 4/5 Junior women will race with the Cat 4/5 women).  The Cub Juniors (9-11 & 12-14) will race together (boys and girls) but will have the course to themselves.
Directions:
From I-495 north or south, take exit 27 (Bolton/Stow Route 117). Follow Route 117 west for 4 miles to the fairgrounds. Please enter through Gate 2 for parking, which is in the field on the left. Registration will be in the large white tent in the center of the grounds.
GPS and google map address:
318 7 Bridge Road Lancaster, MA 01523
Rough course layout (subject to tweaking…)