When:
September 1, 2018
all-day
2018-09-01T00:00:00-04:00
2018-09-02T00:00:00-04:00
Where:
339 7 Bridge Rd
Lancaster, MA 01523
USA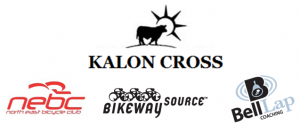 USA Cycling license required.  Pre-registration is available online through BikeReg.com until Thursday, August 30th.  Online service fee based on Bikereg.com standard service fee rates applies.  Entry fees include NEBRA surcharges. Day of registration will be available from 7:30am until ½ hour before scheduled start time for all fields; a $5 day of registration fee will apply.  Snail-mail registrations accepted but must be received by Monday, August 27th and send to Atwood Racing Services, 62 Timber Ridge Dr, Holbrook, NY 11741.  Additional races are only $15; discounts to be applied through BikeReg.com.
Pre-registered riders will be seeded in the start grid by their crossresults.com ranking, then order of registration.  Riders registering after pre-registration closes will be staged in the back of the grid, no matter if they are ranked or not.  The promoters will have final say on the seeding of all riders.
Neutral service will be provided.  Mountain bikes without bar-ends are acceptable.  Helmets are required at all times during the weekend and jerseys must have sleeves (no tank-tops or vests).  Races may be combined or cancelled if above listed minimum registrations are not met. There is no warming up on the course during races; the schedule has been designed to allow plenty of warm-up time for riders in between races.   Please follow the instructions of the officials when allowed to warm up on the course. Please report to the staging no later than 10 minutes before the start of your race; staging will start no later than 5 minutes before the start of each race, and riders who miss their call-up risk losing their spot in the grid.
The address of the venue to get directions from your favorite mapping software is: 339 7 Bridge Rd, Lancaster, MA.
Club Row: Team Individual tent spots are available in the paved registration area along the start/finish line. Each space is $30 with all proceeds going to Nashoba Regional HS Best Buddies Chapter.
For more information on the race weekend, log online to http://www.fastalracing.com or contact Gary David by e-mail at garycdavid@gmail.com.