CCAP Rocky Hill Cyclocross Series
When:
September 5, 2018
all-day
2018-09-05T00:00:00-04:00
2018-09-06T00:00:00-04:00
Where:
340 Elm St
Rocky Hill, CT 06067
USA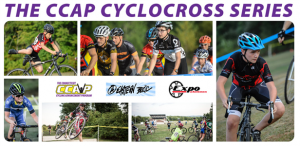 The Rocky Hill Series returns for 2018! We are proud to present the series as the centralized location for youth team practices (5:15 PM) and a fun, no-pressure, family-friendly training race for all those preparing for the 2018 cyclocross season (6:00 PM)
In addition to the team practice, youth riders have the opportunity to race a shortened race at 6 PM. Listen for details from the race official at the start!
Age requirements:
Junior practice is open to riders 9 -18.
The Open Training Race is open to riders ages 9 and up!
Volunteers are needed to make this event successful. Sign up and you or a friend may race for free. CLICK HERE TO HELP OUT
All riders must have a USA Cycling License. If you don't have one, One-day Beginner licenses may be purchased onsite for $10 and are valid for a single day. One-day Beginner licenses may only be purchased by new riders or Category 5 riders.
Equipment:
All riders must wear a helmet. A cyclocross bike or mountain bike (without bar ends) is suggested.
New to cyclocross?
Check out THIS VIDEO to learn what it's all about!